You'll notice Twitter introduced a major facelift to their profile pages last month. Moving towards a Facebook feel, the new profile places more emphasis on images and top content. With the official switch to new profiles taking place today, here is everything you need to know about the update.
Header Image
The new header image is likely the first thing that catches your attention. The image spans the width of your profile and acts as the background for your profile photo. Twitter recommended dimensions for the header image are 1500 x 500 pixels. To add an image, click the Edit Profile button on the top right of the page and select 'Change your header photo'. This is a great place to display a lifestyle image that reflects your brand. Show off your products, services, or skills in this space.
Profile Image
Profile images have also increased in size. Recommended dimensions for the profile picture are 400 x 400 pixels. Similar to the header image update, you can change your profile photo via the Edit Profile button. A colorful brand logo is great for this space. It is important that followers are able to easily recognize your profile photo within the Twitter feed.
Pinned Tweet
The new Pin to Your Profile Page feature allows you to dock your favorite tweet at the top of your page. This is great for highlighting your best content – new events, announcements, offers, etc. To pin a tweet, simply find the specific tweet and click the three dots at the bottom. This will give you a drop down with the option to select 'Pin to your profile page'. Once you have pinned your content, be mindful about not leaving an out-of-date tweet featured. Keep your page fresh and change the pinned content every so often.
Photos and Video
One of the best updates has to be the change to how photos and videos are displayed on a profile. Just under your profile image, people now have direct access to your photos. Now is the time to embrace visual content and post more photos and video. This content will become more and more important as photo and video apps are integrated.
New Profile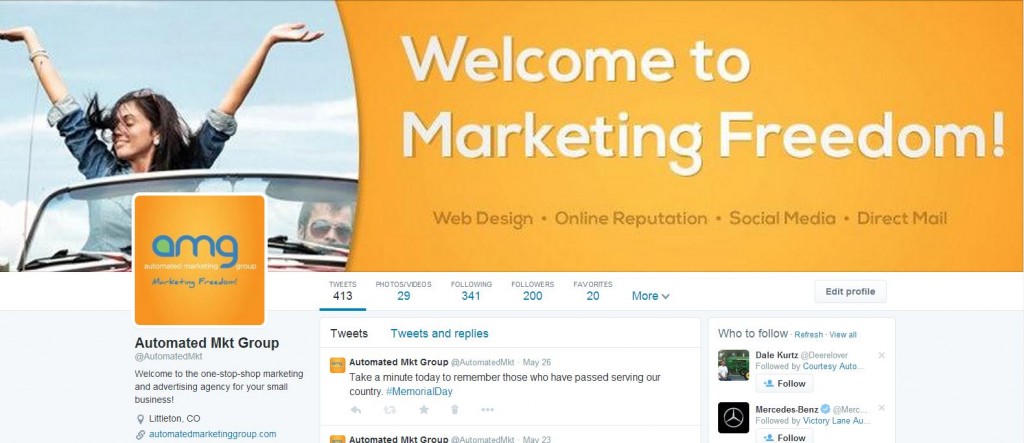 Old Profile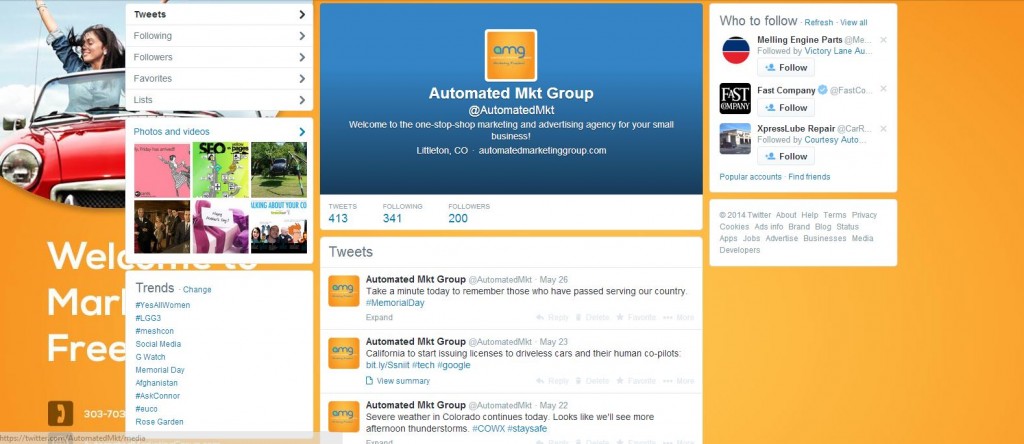 If you need help managing your social media feel free to contact AMG at 303-703-8000. Or ask us a question on our Facebook or Twitter pages.