Google is using social media more and more in their search results? Check out the following image: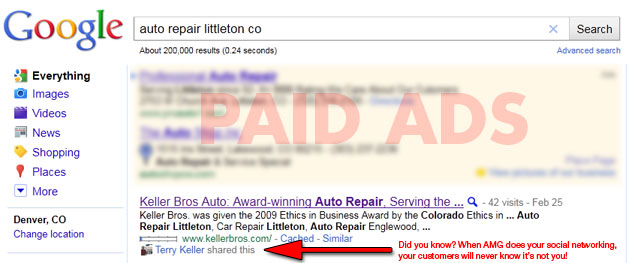 With social media becoming a major player in today's search engine ranking results, it has never been more critical than now to have your accounts PROFESSIONALLY managed.  One poorly chosen response or statement, and your company's reputation in your local community can be permanently damaged.
Want proof?
Here's how Skittles, a PR executive, the designer Kenneth Cole, and even the Red Cross have harmed their reputation because they either…
didn't manage their social media at all
didn't let a professional manage their social media
or didn't monitor their social media!
But here's the thing: professionally managing and monitoring your social media is really just scratching the surface…it's the bare minimum when it comes to having a professional web presence.
If you really want to make the most of Facebook, Twitter, LinkedIn, etc., you should be thinking about COMBINING your efforts on the web.  It's one thing to post interesting content that your fans and followers pay attention to…but another thing entirely to tie that into your Search Engine Optimization!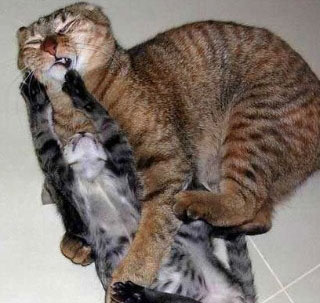 If you want to see a real fight, put all of those creative teams from different companies on the same project…
In other words, in order to manage your presence on the web, you can hire a social marketing team, and hire a separate SEO team, and hire another company to monitor your reputation, and a fourth team that produces content, and you can pay them each thousands of dollars each month…
And at the end of the day, each of those teams would still only be doing part of the work.
Your social networking team needs to know what your SEO team is doing to be truly effective, and needs to know about everything your content team is writing so they can post about it. Reputation management works hand-in-hand with SEO and social marketing. SEO works best when done hand-in-hand with social marketing and content writers.
And the list goes on!
When it's all said and done, you are best served doing ALL of this yourself…
(Of course, before you start, ask yourself if you really have another 6-8 hours every day available AND an education in the latest online marketing…)
…OR having ONE company do ALL of it for you.
That's the only way that each piece will be effective!