Remember the good old days when you could just throw a website up on the internet and you'd automatically get boatloads of traffic and customers would be lined out of the door because of how cool your page looked?
No?
Us either – because that was never the case!
The fact is that having a website isn't enough. It's a great first step, and it helps make all of your other marketing more effective, but it's only PART of a successful marketing strategy.
Take this story for instance.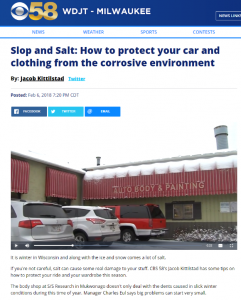 Earlier this year, a local CBS affiliate contacted our client for help with an article of the effect of road salt on vehicles. The article helped drive cars and gave this client authority that his competition would kill for.
But there's more than meets the eye. CBS called because of blog posted to the client's website, which they found on Google because of SEO. And the client was able to use social media to stretch the exposure even further.
The critical part of this story was all of the digital marketing working together in a synchronized way — website, SEO, blogs, social media.
Are you supporting your website? Is your marketing synchronized?
As we head into 2019, why not resolve to get marketing that really WORKS?
Get started TODAY by calling AMG for a FREE digital marketing assessment – TOLL FREE: 866-520-3030!
What makes our marketing different?
AMG offers a full suite of direct mail and online marketing services. From website design to search engine optimization to social media, we have the capability to create a marketing plan that fits your needs and your budget. Contact us today to see how AMG can help you find your Marketing Freedom!