How much does Adwords Cost?  This is a very common question that we hear from SME (Small to Medium sized Enterprises) businesses who have never had any kind of experience in marketing their business online or are just dipping their toe into online advertising.
Before we delve into the mindset you need to have in order to successfully utilize Adwords or any other kind of pay per click platform or display media channel online let's ask the question of you the reader.
How much do you think does Adwords cost?
a) $1,000 per month
b) $5,000 per month
c) $10,000 per month
d) You can set your own budget and can spend as much or as little as you want, but it should be profitable.
The Answer is……. D!
Yes, that is correct, you the business owner or advertiser set the budget to whatever you want it to be, right in the Adwords interface per campaign.  This functionality is in the "Settings" tab once you log into your Adwords account.

Next, you navigate down the page until you find the "Budget" Section and then input the amount you'd like to spend.  Note that this number is a DAILY number, not a weekly or monthly number so you need to backtrack how much you want to spend on a monthly basis and input the daily number here.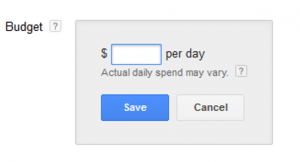 Note that there are other kinds of budgets you can set in Adwords, such as shared budgets across multiple campaigns, but this is the most simple implementation at an individual campaign level.
Now that we have the technical details out of the way on HOW to set your budget with Adwords, let's get to the more important question how WHAT you should expect your budget to be with Adwords.
One of the first considerations you should think about before deciding on a budget is what are your goals for advertising on Adwords?
– To generate leads?
– To generate phone calls?
– To generate ecommerce sales?
– Brand awareness?
Here is where you really need to get specific and get into very granular detail.
Once you have identified what your overall goal is, you need to ask yourself the follow-on question of "How much do you want to spend for each one of the following to be profitable?"
– Each Lead
– Each Sale
– Each phone call
– How many thousands or millions of people do you want to see your product or service?
From there it is a matter of figuring out how much your revenue goals translate into "Ad Spend".  This will require some math to figure this out.
Let's do some math here to illustrate this what we are talking about here:
Step 1: Determine Your Overall Goal Is For The Campaign
Let's say that your overall goal is to generate leads and/or phone calls from your site which in turn lead to sales. An overall goal of generating 30 sales or new customers over the course of the month is your goal.
Step 2: Determine How Much You'd Like To Spend Per Lead
Now, because we have been tracking how well our leads/calls are converting to business for us, let's say that each person that does business with us generates $400 in revenue. Of that revenue, $100 is profit. For the sake of argument, let's just consider the first transaction here, not get into lifetime customer value, one year customer value, etc. So, in light of this, we could theoretically spend $100 to bring in a new customer. This is also known as a "Sale Cost Per Acquisition" goal, or the maximum amount of money you are willing to spend to get a new customer and still be profitable.
For every 10 leads/phone calls that come in 5 become new customers. (OK, high conversion number here, but for arguments sake let's consider this a local business and most of the leads generated are phone calls.) This is known as our Lead Conversion Rate.
Phew, that was alot of background data, now let's get into the math of figuring out how much our budgeting should be using the formula below:
(Sale Cost Per Acquisition x Lead Conversion Rate) = CPA Maximum For Lead
In this case:
$100 x 50% = $50 maximum spend per lead
Step 3: Determine Your Monthly Adwords Budget Based Upon Your Goals And CPA Maximum For Lead
Now, let's do the math on how much we should expect to spend on our budget to accomplish our goal of 30 new sales/customers per month.
(Sale Goal / Lead Conversion Rate) = Number of leads needed to meet sales goal
30 / 50% = 60 leads
60 leads x $50 per lead = $3000 budget
There we go, that should be our expected budget per month!
If you'd like to find out more about outsourcing marketing campaigns, let us know by contacting us at the following page.