Google recently came out with the results from a study they conducted with Ipsos MediaCT in 2013 around branding and addressed the question of whether or not paid search ads improve brand awareness.  The results of the study really confirm what a lot of us in the internet marketing field have been saying for years, that PPC and even Google Search ads can and do increase Brand awareness as well as direct conversions for a site owner.
About the brand search study
The study itself was a "meta-study" combining over 61 studies covering 12 different business verticals.  The Search Engine test showed both what is known as a "Control" (which did not show the Test brands PPC Ad) and then one where their brand was shown prominently at the top of the Search Engine Results.  See the image below for an example of the two tests.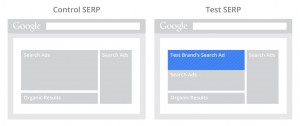 The results themselves are pretty startling, as showing a Google Search Ad improved top of mind awareness and brand recall by 80% for those running those ads.  The results themselves You can see the summary of the results in the image below with some sample breakouts by vertical.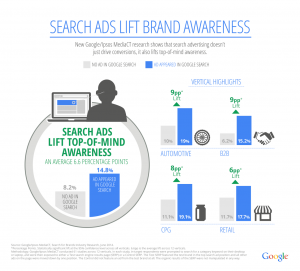 Traditional Paid Search Ads
For the most part, when people think of Google Adwords, they think of direct response marketing. i.e. clicks turning into either calls or viewers landing on your website and hopefully fill out out a contact form, subscribing to your newsletter, or filling out an assessment form.
Most people think of traditional brand awareness campaigns as limited to TV, radio, or print ads, but this study shows that this is not necessarily the case.
However, the study seems to indicate that this is not necessarily the case.
What does this mean for a small business?
#1 First, you should be aware of what kind of KPI (Key Performance Indicators) that whoever is running your PPC campaigns is running for you.
Are they trying to increase branding (top of mind awareness) or directly impact some type of conversion (Calls to your business, appointment forms being filled out, etc).
You can run BOTH a direct response AND/OR branding specific campaigns for any kind of business, whether it is a brick and mortar auto rep.
But, like the study shows, direct response PPC campaigns do increase top of mind awareness.
#2 For small to medium sized businesses, we recommend a direct response PPC campaign first, with possible branding afterwards down the road.
As you can see from the study, Google Search PPC campaigns do have a brand awareness lift, but this should be viewed a secondary affect, not the first primary purpose of these kinds of campaigns (unless you specifically designate so).
What do you think about this?  Have you noticed this trend before?
If you'd like to find out more about outsourcing marketing campaigns, let us know by contacting us at the following page.