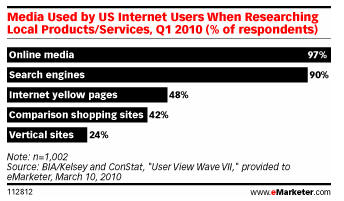 I recently had a newer client come to me asking us to redesign his local phone book ad.  I've been saying for years that the phone book is dead…and it's not hard to see why.  Here in Denver, we're buried under an avalanche of different yellow pages, and there's simply no way to be in all of them.
Not to mention the fact that people are using search engines instead.  (TWICE AS MUCH, according to the graph on the right from eMarketer.com.)
But that doesn't stop sales people from calling and trying to sell that ad space…which is why I want to set the record straight when it comes to marketing:
Targeted mail outperforms untargeted marketing like the yellow pages in every way.
Here's why:
"When I finally switched from traditional advertising – yellow pages, neighborhood coupons and an antiquated web site – and focused on a frequent, targeted mailing program and having a comprehensive internet marking presence, my sales tripled and my net profit went up ten-fold. Today, sales and profit continue to increase at an amazing pace in spite of the economy and all the bad news out there."

Terry Keller
Owner, Keller Bros. Auto Repair, Littleton, CO
Whether you're talking about direct mail or internet marketing, you need to be working to attract a targeted customer in a targeted neighborhood.  In direct mail, that means you should be mailing into specific neighborhoods with a message that targets specific customers.
Trying to sing a song that everyone likes is not going to work for most small businesses…it's much more effective to determine WHO your customers ARE and focus your ad dollars on precisely what they want to "hear," and then get busy delivering the mail and the experience once they arrive!
Same with online marketing: your SEO should be targeting a specific group of people and your website should be speaking directly to and attracting great customers who buy and refer other great customers. Birds of a feather DO flock together!
And while we're speaking in the terms of birds…which would you rather be doing — shooting wildly in the dark or taking precise rifle shots from a comfortable, planned position of knowledge and experience?
For more info on how to get affordable, but highly targeted direct mail and internet marketing solutions for your business, give us a call at 866-520-3030 or click here to contact us directly!