Our team is honored to be named Best Marketing Agency in the "Best of Colorado" Business Choice awards from ColoradoBiz. Learn more in the press release below and catch us in the printed copy of the magazine. Thank you for your support!
—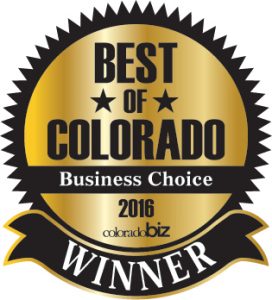 Automated Marketing Group rises to the top of the state's ad/marketing agencies
Clients of Littleton's Automated Marketing Group, a full-service marketing agency, are raving about the overall experience of working with this team. Taking it a step further, they are also calling them out on their website know-how.
As a result of creating marketing campaigns that grow clients' businesses the right way, readers of ColoradoBiz magazine and business owners in Colordao have voted the agency as the Best Advertising/Marketing Agency, and one of the top website developers in the state.
Published in the May issue of ColoradoBiz, Automated Marketing Group is among several Colorado companies voted for by their peers in the 2nd Annual Best of Colorado – Business Choice Awards. As the winner of the advertising/marketing agency category, Automated Marketing Group is profiled by the magazine, noting, "The [Automated Marketing Group] team of marketing experts look beyond strict ROI reporting using measurement and analytics that get past activity to the true results."
Last year, the agency came in as one of the top three advertising/marketing agencies recognized in the Best of vote.
"Having our clients and peers show their trust in our marketing team and campaigns speaks louder than any advertising or marketing we could do for ourselves," said David Rogers, president of Automated Marketing Group. "Our marketing team takes the time to get to know each client and their customers to offer a personal understanding of how to grow their business, giving them much more than comprehensive analytics on their campaigns. They go beyond surface level activity or ROI to provide our clients with real results."
View examples of Automated Marketing Groups work that earned them these awards.
About Automated Marketing Group
Founded in 2001, Automated Marketing Group (AMG) is a full-service marketing agency, and a Google Certified Partner in Search Advertising, offering comprehensive marketing for small businesses from direct mail to social media to web design and more. Request a free marketing evaluation from the award winning experts at Automated Marketing Group.