Third party reviews from customers are critical to the success of a small business today, particularly online. Potential customers rely more and more on feedback from previous customers that is left on sites such Yelp.com Google.com, and Facebook.com to evaluate whether or not they want to use a companies product or service. According to a recent survey, 88% of customers trust online reviews as much as a personal recommendation from someone they know.
A company with great reviews online of their product or service often has a leg up over the competition.
However, there is one relatively unknown way that a small business can take advantage of positive online reviews, and that is through Adwords advertising and something known as a "Review Ad Extension"
What Is An Adwords Review Ad Extension?
"Normal" Adwords search ads consists of a headline and two descriptive lines of text generally listing some feature and benefit and includes some kind of call to action in it with the immediate goal of generating a click to a website or phone call to your business.
One strategy to increase the effectiveness of of your Adwords ads is to use an additional form of the ad called an "Ad Extension". An ad extension adds additional information to the ad, making the ad larger and more attractive to the person searching on a search engine.
There are several kinds of ad extensions available, to name a few: location extensions, call extensions, and review extensions. Review extensions in particular are a way to highlight reviews left by customers on websites other than your own.
Here are two examples of a review extension in an ad.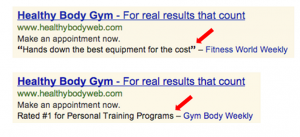 The review extension itself is the bottom line of the ad and provides a direct quote as well as a link to the website where the review was left.
Why would you use a review extension?
Review extensions are a great way to highlight reviews by your customers on other websites, while at the same time getting your own marketing message across.
In addition, using any form of an ad extension is proven to increase the Click Through Rate (the rate at which your ad is clicked on) of your ad which has lots of benefits, including more traffic to your website and eventually reduced cost per click overall.
They are also a great way to highlight reviews by your customers or clients which have been placed on sites other than your own, lending both the credibility of that other site as well as providing a direct quote about what someone actually thinks about your company or service.
Want To Find Out More?
Would you like to get an assessment of your current Adwords advertising and how it could improve? Just click this link to sign up for an assessment of your Adwords advertising or to discuss what it can do for your business.