Gone are the days of businesses relying on mediums such as the Yellow Pages for advertising. The thick, never ending books have been traded for today's faster and more reliable technology. Online advertising has become an essential part of running a successful business. Bad exposure, or worse, no exposure can be detrimental to a company.
But what exactly is Paid Search Advertising?
Here's a quick overview:
When you search for something on Google, paid advertisements appear on top and side of the organic listings
The ranking of these ads depend on several factors including bids and quality score
Higher ad rankings result in greater exposure and a higher click through rate (CTR)
The advertiser doesn't pay for the ads until they are clicked on (hence the term pay per click or PPC)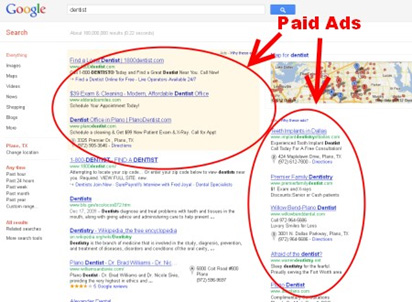 So why bother with PPC advertising? What is your business going to get out of it? Here are a few of the many benefits of Paid Search:
Qualified traffic – About 10-25% of all clicks are paid search ads
Speed and efficiency – Ads can get listed or be changed quickly (as opposed to the free but much slower moving organic listings)
Reach – Get quality, high volume traffic to your site (from areas or keywords you don't show up for organically)
It's easy to test new strategies
Bottom line is if your online presence is non-existent, chances are your company may be headed in that direction too. With billions of web searches being made each month, online advertising is becoming an essential aspect of a comprehensive marketing plan. If you find yourself struggling to figure out PPC advertising, agencies such as AMG can help you start and manage your paid search campaigns.
AMG provides professional management of your paid search campaigns through keyword research, high quality ads, geo-targeting, ad tracking, and bid management. Our goal is to help increase your overall revenue by increasing website and call traffic.  We can even help answer why you can't see your paid search ad.
Check out all of AMG's marketing services that will help you develop an integrated marketing plan for your small business.